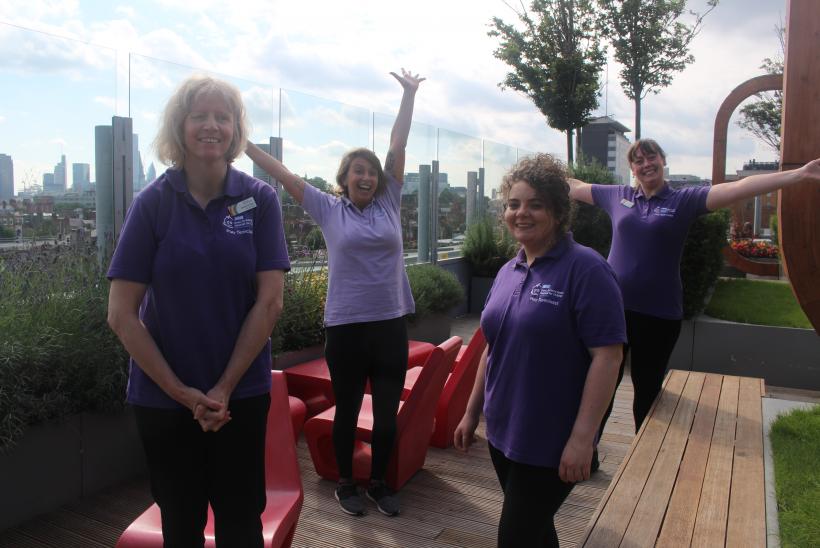 Play is important for patients and young people, especially when in hospital. With the largest hospital Play team in Europe, Great Ormond Street Hospital (GOSH) is dedicated to putting the Child First and Always and providing holistic care for our patients and families.
According to Article 31 and general comment (GC) 17 of the UN Convention on the Rights of the Child (UNCRC), all children and young people have a right to rest, leisure, play, recreational activities, cultural life and the arts. Play's characteristics as defined in general comment (GC) 17 are: 'fun, uncertainty, challenge, flexibility and non-productivity; it is a fundamental and vital dimension of the pleasure of childhood; it is an essential component of physical, social cognitive, emotional and spiritual development'.
Through playful engagement and exploration, our friendly and highly-skilled Play Team provide specialised therapeutic play which can be accessed both during outpatient clinics and on the wards to help patients cope with their diagnosis, condition, treatments and procedures. The team can also support children and young people to settle in and to make sense of what is happening in their treatment/intervention.
Moreover, the Play Team also provide general play activities, to help normalise patients' experience at the hospital. As part of this, on every ward there is a play facility staffed by team members and stocked with books, toys, and games.
Playworkers will support children and young people to access play materials and Play specialists use playful methods for preparation, distraction and post-procedural play.
Each day, the team of Health Play Specialists at GOSH come into contact with around 200-300 children. The play team helps patients and families in different ways:
Preparing for procedures: Play specialists help children prepare for life-saving treatment and surgery using techniques such as role play, drawing and practicing procedures. Preparation can involve dolls, creativity and books to prepare children for a specific procedure, helping them to understand what the procedure will be like. Distraction techniques aim to take their attention away from treatments and procedures while they are happening, and assessment allows play staff to develop a play programme for children to reach goals during their hospital admission. For example, the team use distraction techniques to engage and distract children before and during blood tests, so that they have a more comfortable experience.
Bringing fun into the hospital: Playworkers and Play Specialists work closely with patients and families to provide lots of fun activities tailored to the interests of each child. This helps patients maintain some normality and ensure children don't miss out on being children.
Supporting the whole family: Playworkers and Health Play Specialists often form strong relationships with children by maintaining playfulness through treatment and can ensure that complicated medical information is communicated in a child-friendly way, this can alleviate the parents' worries of explaining complicated illnesses to their child. The play team can also provide families with a much-needed break.
Speeding up recovery: Research shows that play can improve a child or young person's recovery time. We think this is because doing a little of what you want to do and enjoy has a positive effect on their ability to cope with stress and to heal.
Diverse services provided by the Play department
The Play service at Great Ormond Street Hospital provides and supports opportunities for play to happen and also delivers specialist play preparation, all for children and young people in outpatient clinics and on the wards. All play is therapeutic and to be able to access play during treatment is an important part of retaining joy for children and young people (and their families). Play is the language of children and it is how children experience the world. Play builds relationships and trust between people.
There are Play Specialists and Playworkers throughout the hospital – they work as a team and have different roles. Here is some of what do they do:
Play workers (light purple shirt):
Have a minimum level 3 in Playwork, Child Development or Childcare and education.

Have an understanding of different theories of Child Development, this helps them to make an assessment play needs.

Have experience and understanding of inclusivity and diversity in childhood and how to actively promote and support this.

Enjoy supporting play opportunities and finding creative ways to make play possible when there are physical and emotional barriers.

Give support and advice to parent and other care-givers on ways they can support play.

Supports general play either in the play/adolescent rooms or at the bedside.

Are playful.

Are excellent at holding space for children's play, they don't dominate with their own agenda.

Source creative, fun activities and social opportunities for children and young people while they are in hospital.

Support children, young people and their families with the strategic use play-based techniques.

Undertake observations and assessments relating to play sessions.

Contribute to patient notes and documentation.
Play Specialists (deep purple shirt):
All of the above – plus…

A further qualification and training in Health Play Specialism or therapeutic play interventions.

Help children and young people to recognise existing coping strategies and form new ones.

Use their skills to Prepare children and young people for procedures and treatments by putting them in the driving seat and supporting understanding and myth-busting.

Work with children, young people and families on the most effective ways to distract from procedures and treatments, when appropriate.

Support children to make sense of what they are experiencing with the strategic use of play-based techniques.

Offer distraction, relaxation and desensitisation techniques for children and young people undergoing medical procedures.
Erin Hanna
Senior Play Specialist, Bumblebee and Hedgehog Ward
Hello, I am Erin and I have worked in the NHS since 2008 and started working at GOSH in June 2012. I started off as a Play Worker in the Oncology and Haematology Wards. I also have experience working on respiratory and intensive care wards. I began my Foundation Degree in Healthcare Play Specialism in 2015, qualified as a Registered Health Play Specialist in 2017 and am a member of the Healthcare Play Specialist Education Trust. I joined the International and Private Care Play Team in 2016 and I was based in Hedgehog Ward. My role as a Play Specialist is to support children and young people that come to the hospital by providing therapeutic play to prepare them for their upcoming procedures and treatments. Through this play we can come up with coping strategies and distraction methods when they undergo medical procedures.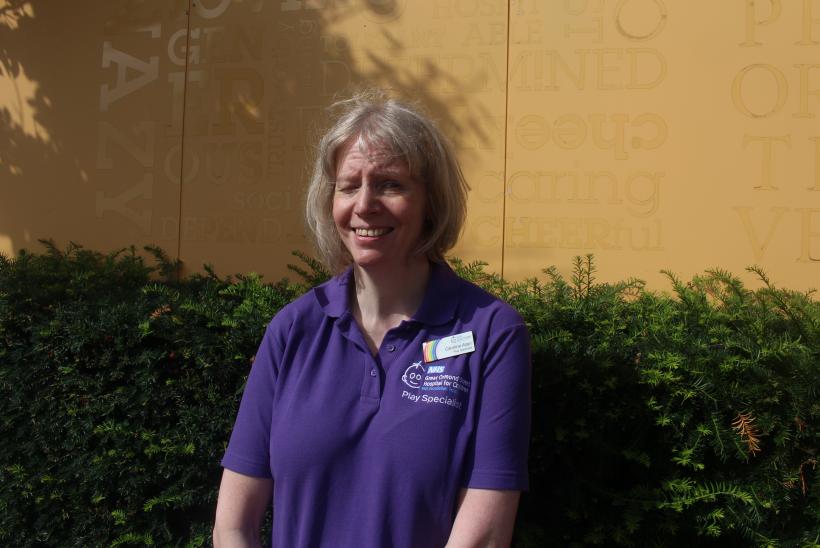 Caroline Allan
Play Specialist, Butterfly Ward
Hello, my name is Caroline. I have worked for the NHS since 2008, which is also the year I qualified as a Health Play Specialist. I started working at GOSH in May 2013, where I gained experience on the Oncology wards, I then moved to International. and Private care, where for the last few years I have been based on Butterfly ward, which is also Oncology. My role includes preparing and distracting children for procedures they are having, as well as keeping them busy and entertained while they are on the ward. I work alongside the whole of the Multi-disciplinary team, to help ensure the children have the best experience possible.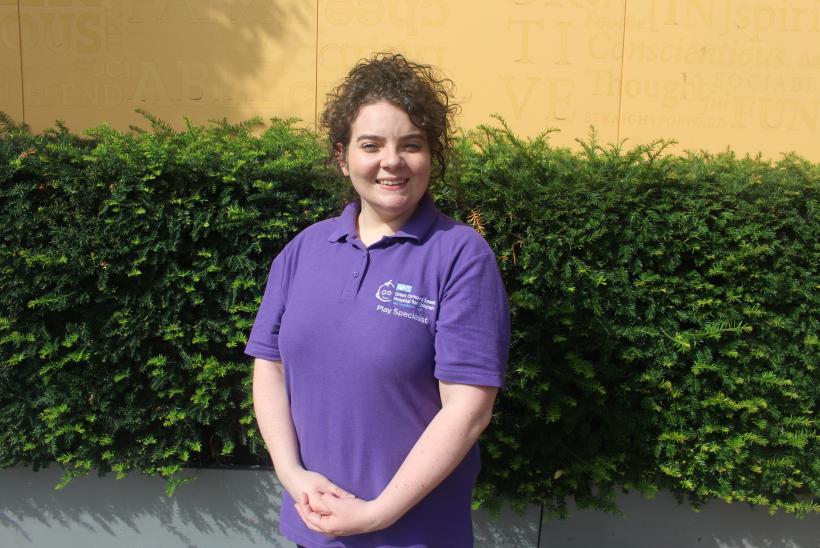 Ellie Henry
Play Specialist, Caterpillar Outpatients
Hello, My name is Ellie and I have worked in NHS since 2012 and started working at Great Ormond Street hospital in March 2015. I started off as a Play worker in Outpatients and International and Private care Team . I have experience of working with many different health specialities and conditions . I began my Foundation Degree in Healthcare Play Specialism in 2018, qualified as a Registered Health Play Specialist in 2020. I joined the International and Private Care Team full time in March 2020 , and was based between Caterpillar outpatients, Bumblebee and Butterfly wards. In 2021, I moved to Caterpillar Outpatients to support children and young people coming in for their clinic appointments, through providing therapeutic play to prepare them for upcoming admissions, procedures and treatments.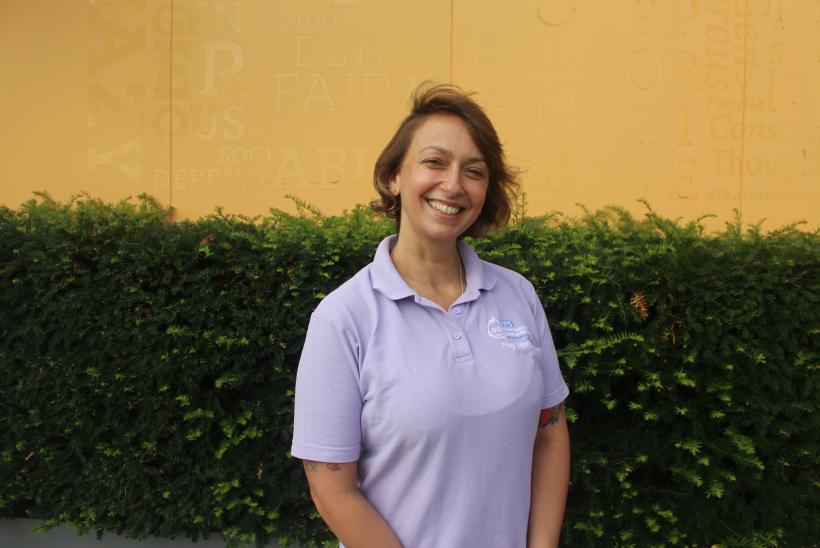 Claudia Monteiro
Play Worker, Butterfly Ward
My name is Claudia Monteiro and I have been working at GOSH since 2009. I started as a Nursery Nurse at the hospital's Staff Nursery. In 2016, I joined the Play Team as a Play Worker. I started at Fox and Robin Wards. In 2018, I joined the IP&C Team based in the Bumblebee ward. I moved to Butterfly Ward in September 2019. I love working with the families from all over the world.
Play team with patients